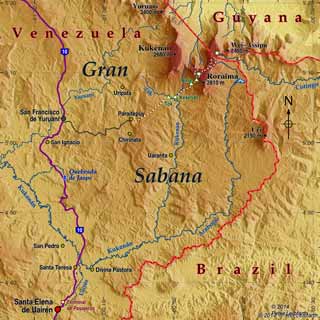 Daily Itinerary
Day 1: Santa Elena - Pareitepui - Tek Camp
You leave Santa Elena around 8am for the 2-3 hour journey by jeep to the Pemón village of Pareitepuy, where visitors register with the National Park authorities and where the porters pick up the equipment. After a light lunch, you start the 4-5 hour trek across open savanna, eventually arriving at the Tek Camp where you will spend the night in tents.
Day 2: Tek Camp - Savanna - Base Camp
After breakfast you set off for another 6 hour hike. Today you cross the Tek and Kukenan rivers, which can be quite a challenging experience if there has been heavy rainfall. Passing by fields of orchids, in the early afternoon you stop for lunch at the Military Camp. Then the trail climbs for a few hours, taking you to the base camp at a height of 1,800 m near the foot of Mount Roraima, where you spend the second night.
Day 3: Base Camp - "La Rampa" - Plateau
This is the most difficult day's hiking. After breakfast there is a steep trek for a couple of hours through lush, beautiful cloud forest to the wall of the mountain, marked by a slope of huge boulders and a waterfall. The trail rises along this natural stone ramp that runs from right to left through the jungle and up the side of the cliff face, the only accessible route to the summit, which takes about 90 minutes. After a light lunch you can begin to explore, and enjoy the tremendous views across the Gran Sabana from a height of 2,700 m. On this night you sleep on the top of Mount Roraima, sheltered by a natural rock overhang known as "Los Hoteles".
Day 4: Plateau - Summit - Crystal Valley - Triple Point
The plateau of Mount Roraima is around 70 square kms and offers bizarre rock formations, flesh-eating plants and black frogs that are unique to this eco-system. After breakfast you spend around 8 hours exploring the summit, hiking to the valley of crystals; the Triple Point obelisk marking the border between Venezuela, Guyana and Brazil; and to the El Pozo waterhole and cave system.
Day 5: Descend to Tek Camp
After breakfast you set off down the mountainside for a full day hike that will retrace your steps and take you back through the jungle, over the savanna, and across the two rivers to the Tek camp. You can enjoy a refreshing swim in the river at the end of this 7-8 hour trek.
Day 6: Pareitepui - Quebrada de Jaspe - Santa Elena
On the final day you hike back to the village of Pareitepuy. Here – after leaving a good tip – you say goodbye to your guides and meet your jeeps for the journey to Santa Elena after cold drinks and lunch. On the way you will stop at the Quebrada de Jaspe – a natural formation of water and beautiful red stones.